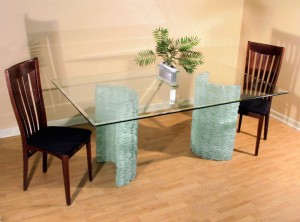 Glass Table Tops
Nothing is more beautiful, or protects better than glass. When it comes to designer accents and sparkling beauty, glass table tops are the material of choice. Available in any size and shape, stand alone glass table tops can provide all the seating area needed without overwhelming your space. And with any number of available edge finishes you can design your glass table top to fit your own personal flavor. If you need to protect elegant furniture finishes but still want to enjoy its beauty, nothing can compare to glass. Glass is an inexpensive alternative to having to refinish valuable wood finishes due to spills or damage.
For stand alone and pedestal glass tops, you can choose from several available colors and thicknesses depending on your needs. While standard clear glass has a slight greenish tint, low-iron glass is available, providing a crystal clear appearance when viewed from the edge. You may choose bronze, gray or even blue glass to accent your room decor. And when it comes to edge finishes, there are any number of options to personalize your table. No matter what your requirements, we can help.
For glass tops to protect wood finishes, the most common thickness is 1/4? and can be custom cut to any shape necessary. A variety of bevels, polishes and custom edge work is available to suit your taste.
While most glass tops whether stand alone or to protect furniture are fabricated from annealed glass, when used for a patio or bathroom application, safety tempered glass is required.
Because there are so many options, sizes and shapes of table tops it's impossible to list them all but at Glass Builders we have a large number of stock size tops in a variety of thicknesses with standard and custom edges at greatly reduced prices. Even if you need a custom size or custom shape we can help you stay within your budget.
Glass Shelving
No matter what you have to display, nothing adds sparkle and beauty to your items like glass. Whether you want something almost invisible or something that's bold and makes a statement, you can accomplish it with glass from Glass Builders .
Numerous thicknesses, colors and textures are available to accent your home, office, business or retail location. Adding a bevel, chipped edge or a high polish can turn an average shelf into something uniquely yours. The options are only limited by your imagination. From a simple cabinet shelf to a custom trophy case, glass is the element that adds that something extra to your collectibles or products.
Whatever your glass needs might be, single or double pane broken window glass repair and replacement, leaded glass decorative door glass, solar screens, a frame less shower enclosure,glass shelving, window tint, security film, wall mirrors, or commercial storefront glass repair, storefront door repair, renovation, remodel or new construction for storefront, retail, office buildings or any other commercial or residential project, Glass Builders is the glass company for you. Our professional glass installers and technicians are servicing the glass needs of customers in the entire San Fernando Valley.
SERVING THE SAN FERNANDO VALLEY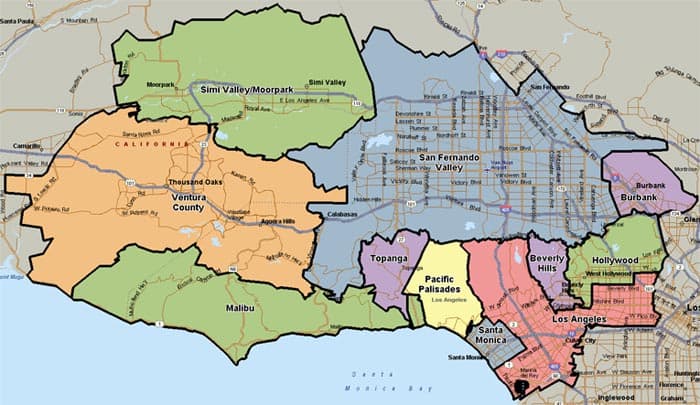 Northridge

Granada Hills

Reseda

Chatsworth

Studio City

West Hills
OTHER LINKS
CAREERS
PRIVACY POLICY
PAYMENT OPTIONS